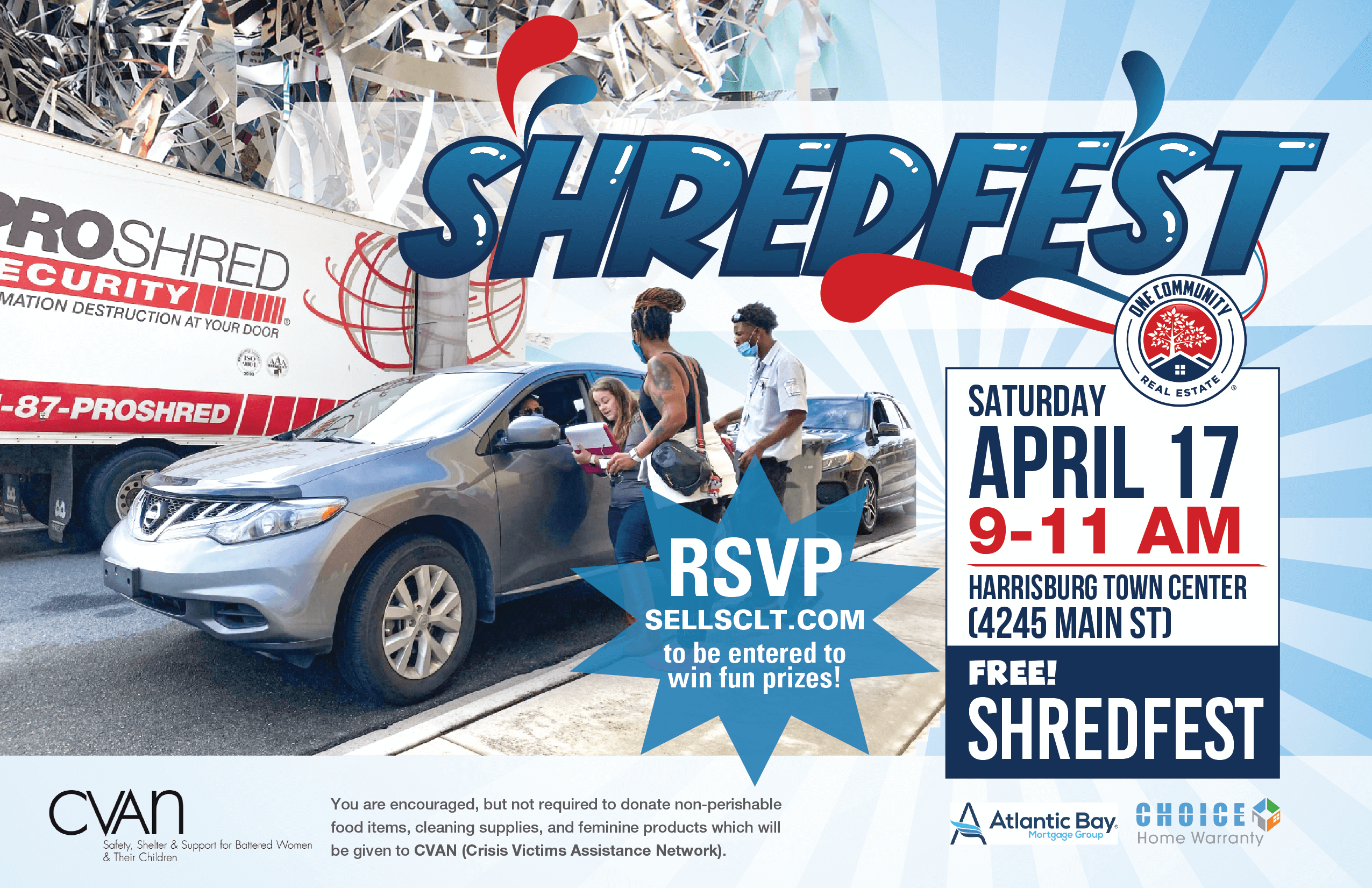 Spring ShredFest and Family Fun!
Saturday, April 17, 2021 | 9-11 AM
Harrisburg Town Center, 4245 Main St. Harrisburg, NC 28075
RSVP below and be entered to win fun prizes!
Join One Community Real Estate® #Community Team for Spring ShredFest 2021. It's time to get rid of all the paper documents you have cleaned out during quarantine days during our FREE ShredFest! You can stay in your car and pull up for contactless shredding drop-off, or come protected and say hi to your friends and neighbors! Pull over and let the kids bounce in the bouncy castle or enjoy a sweet treat from our friends at Funnel Vision Funnel Cakes and Kool Cat Ice Cream
Safely dispose of your documents and help save the earth at our FREE Shred Day. Everyone is welcome.
Clean your Closets and Donate your Unused Formal Dresses
We are collecting prom dresses for a much needed prom season!
Help a deserving young girl who otherwise may not be able to attend her high school prom.
New or gently-used, cleaned prom dresses will be accepted at our ShredFest. All sizes, shoes, purses, and accessories are welcome. Donations will benefit students in need.
Thank you to our sponsors
RSVP and be entered to WIN Fun Prizes!
Failure to make student loan payments can have a variety of negative consequences. That's why in this episode, Catalina Kaiyoorawongs explains why you should seek advice about student loan debts and what you should do about them.
Key takeaways to listen for:
How LoanSense works for student loans
Benefits of consulting with loan advisors
Actions you need to take
What they don't tell you when you get your loan
Letting go of the fear of student debt
About Catalina Kaiyoorawongs
Catalina Kaiyoorawongs, CEO and Founder is a student loan expert and executive who has worked in financial inclusion in the last decade. She counseled millions of dollars on spreadsheets to build LoanSense with a top technical team that left unicorn companies to build the best technology in the lending space to help more Americans move from debt to homeownership more possible.
Connect With Leigh
Please subscribe to "Real Estate from the Rooftops" in Apple Podcast, or your favorite Podcast App, and on YouTube and Rumble—and never miss a beat from Leigh by following her on Instagram.
As always, if you need a rockstar REALTOR® who is involved in political advocacy, homeownership rights, and is always in the know, call on this girl at Leigh@LeighSells.com
Property Search
When our neighbors buy or sell a home with our firm, they get first-hand knowledge of 'The Leigh Brown Experience' and what sets us apart from the many other companies who do what we do.
what's your home worth?
View Our Instant Market Report, Including Comparables, Instantly.