By Jo Ellen Meyers Sharp
Photo Credit: Photo by Guy Bianco IV on Unsplash
For a lot of Carolinians, there's nothing like a velvet green lawn, but maintaining that green lawn takes care throughout the year. For the four seasons of lawn care, here's a year-round guide.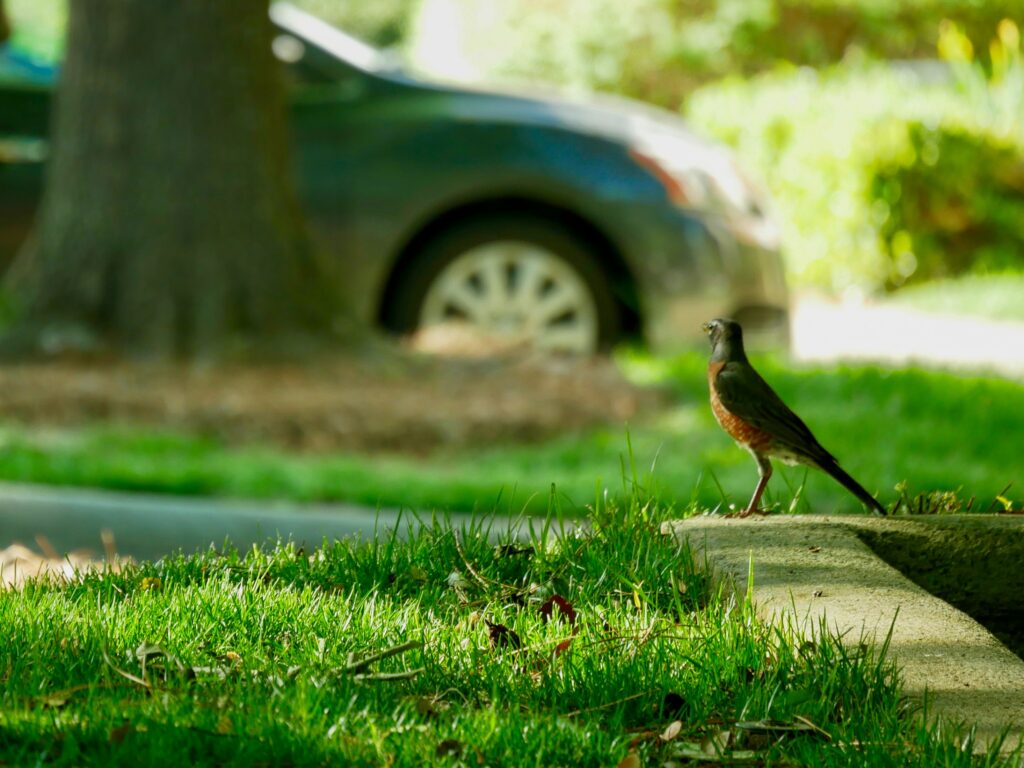 ---
Spring Lawn Care
Year-round lawn care begins in the spring. Your equipment should be ready to roll, irrigation systems calibrated, and you're ready to mow.
Equipment
With spring comes the beginning of year-round lawn care. The first step is to make sure your mower, trimmer, and other lawn equipment are in tip-top shape for their season of service. That means blades are sharp, batteries are charged, spark plugs are cleaned, and power cords are not frayed or nicked.
Dull mower blades tear rather than cut the grass, leaving ragged tips and an uneven lawn, open to insect and disease damage. (A lot of people perform these simple maintenance tasks in the winter when repair shops are less busy).
Prepare your irrigation system for the season. Make sure nozzles and tubes are in good working order and not leaking, which is a waste of water. Don't forget to set timers. Many homeowners let professionals handle preparing their irrigation system to save them time.
Fertilizer and Weed Killer
Fertilize warm-season grasses, such as Zoysia, in the early spring, usually a couple of weeks after they green up. If you have a cool-season grass type, you may skip fertilizing your lawn in the spring, especially if you fertilize it in the fall. Cool-season grasses like Kentucky bluegrass naturally grow as the season warms. If fertilized in the fall, applying fertilizer again in the spring increases maintenance needs.
However, if your cool-season lawn was not fertilized in the fall, apply a fertilizer in the early spring. Additionally, if weeds like crabgrass are a concern, opt for a weed-and-feed product, which contains a pre-emergent herbicide to keep weeds from sprouting.
Mowing and Trimming
Rotary mowers are good options for most lawns. However, if your grass is in the 1-inch range, a reel mower is a better choice. Always make sure mower blades are sharp when cutting Zoysia and similar grasses. For the best cuts on all lawns, consider having blades sharpened periodically throughout the season.
Prepare to mow as soon as your grass grows. Keep in mind the one-third rule, which means you don't want to remove more than one-third of your lawn's height at a time. What this means: If the grass is 5 inches tall, you'll only want to remove about 1½ to 2 inches.
When and how frequently you mow to maintain grass height is up to you. You can mow as needed or you can mow regularly on a weekly schedule. The weed trimmer is also a great tool to remove grass and weeds from around the bases of trees and shrubs, along sidewalks and flower beds, and near privacy fences.
Irrigation
If you have an irrigation system, set timers to water according to your lawn's needs. Be sure your system turns off if it is raining. Most modern systems come equipped with a rain sensor to take the guesswork out of watering your lawn.
Some sprinklers also have built-in timers. Usually, a sprinkler has to be moved to cover the entire lawn area. You can also measure the amount of water your sprinkler delivers during a certain period to gauge if your system is delivering enough water to your turfgrass.
Set small cans or containers, like tuna or cat food cans, in four or five places on your lawn. Turn your sprinkler on for an hour, then turn it off. Measure how much water is in each of the cans to get an idea of how long you will have to run the sprinkler to deliver 1 inch of water to your lawn. For most sprinklers, 45 minutes per section is sufficient.
---
---
Summer Lawn Care
Summer lawn care is in full swing with mowing duties regularly. Irrigation and trimming also are on your to-do list.
Equipment
By now, your equipment has had quite the workout. Clear away grass clippings collected under the decking of your lawn mower. Additionally, consider sharpening your mower blades, especially if you are cutting Zoysia and other similar dense grasses.
Fertilizer and Weed Killer
If you irrigate your cool-season lawn regularly, then an application of fertilizer might be necessary. Fertilize your warm-season grass in the summer, usually in July and August. Avoid using weed killers in the summer heat to prevent burning your turfgrass. Instead, opt for hand-pulling specimens to maintain a weed-free landscape.
Mowing and Trimming
Mow as needed or on your schedule. Mowing needs typically reduce during the summer when many turfgrasses go dormant in the heat.
Irrigation
Irrigating your lawn is critical during hot, dry summers. Some types of grass are better able to withstand dry conditions than others. If you leave footprints when you walk across your lawn, it is time to water. Be sure to follow local watering regulations for scheduling.
---
Fall Lawn Care
Fall is almost as busy as spring when it comes to lawn care. It is also the most important time to fertilize cool-season grasses.
Equipment
This is the season for the spreader/dropper to apply granular fertilizer or an herbicide for perennial weeds.
Fertilizer and Weed Killer
Fall is the best time to fertilize cool-season grasses. Additionally, treat perennial weeds with an herbicide in the fall. The product's label will tell you how to set your spreader to ensure adequate distribution.
Mowing and Trimming
Even though the temps are cooling, keep mowing your lawn to your desired height. Additionally, mulch any leaves on your lawn to add nutrients to improve the soil. You can also collect leaves from the surface of your lawn to reduce thatch. Place them in your garden beds or use them to insulate tender plants from winter chills.
Leaves are also the perfect way to cover your vegetable bed to keep soil from eroding in the winter and to add organic matter to improve the soil. Leaves also work great in a compost pile.
Aerate your cool-season grass in the fall, and follow up with a fertilizer application.
Irrigation
Monitor your local weather patterns. Fall brings more frequent rainfall than the hot summer months. Irrigate trees and shrubs, especially evergreens, such as hollies and rhododendrons, to hydrate them and set them up to withstand the winter's drying temperatures.
You should also clear out your irrigation system and prepare it for winter. Many homeowners hire an irrigation technician to perform a seasonal blowout that also reduces their risk of repairs caused by freezing temperatures.
---
Winter Lawn Care
Fortunately, you can take a few months off from lawn care once the winter comes and focus on perfecting your Southern classics. Consider taking care of equipment repairs and maintenance now rather than in the spring.
Equipment
Clean and store your equipment for the season. Winter is a good time to take your equipment for maintenance or repair, so it will be ready for next year. Drain oil and gas from gasoline-fired equipment. And if you have a snow blower or ice melt equipment, make sure it is in good working order.
Fertilizer and Weed Killer
Fertilizers and herbicides are unnecessary in the winter.
Mowing and Trimming
Take a break from mowing and trimming to focus on indoor home maintenance.
Irrigation
Hand water your winter vegetable garden until frost sets in.
---
Annual Maintenance Routine
Once you have made it through a year to two, you'll develop your own guide and discover what works best for you and your landscape. Be prepared to adapt to weather and other environmental challenges, which may demand more or less work on your part.
The North Carolina State University has an excellent, detailed, year-round lawn care guide that you can use to help you develop your very own.
---
Jo Ellen Meyers Sharp is an award-winning garden writer, editor, and speaker. Known as a hortiholic, she frequently says her eyes are too big for her yard. She blogs at hoosiergardener.com.
---
Leigh Brown & Associates | One Community Real Estate®
Our REALTORS® embrace the role of those who sell, who lead & who influence our communities as your Real Estate Advocates. #onecommunity
𝘾𝙊𝙉𝙉𝙀𝘾𝙏 𝙒𝙄𝙏𝙃 𝙈𝙀
FACEBOOK: facebook.com/WeLoveConcord
INSTAGRAM: instagram.com/leighsellsclt
WEBSITE: www.leighsells.com
PHONE: 704-705-7036