We're going on a bear hunt.
We're going to catch a big one.
What a beautiful day! We're not scared.
So begins the beloved award-winning children's picture book We're Going on a Bear Hunt by Michael Rosen and illustrator Helen Oxenbury that has inspired people across the world to put stuffed bears in their windows to create a "bear hunt" for families out on a walk or a drive through the neighborhood.
Organize a "Bear Hunt" in your neighborhood.
Instructions for your Community Bear Hunt: Download Printable File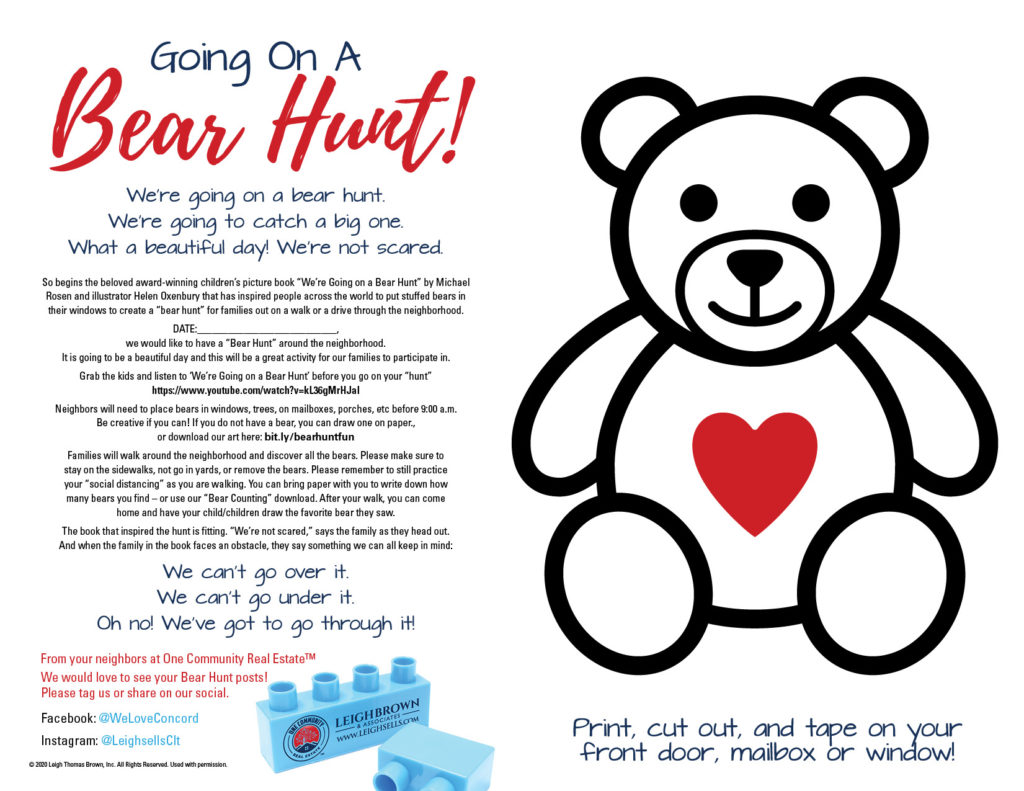 Set a date and encourage neighbors via your Community Facebook or community social page to place bears in windows, trees, on mailboxes, porches, etc before 9:00 a.m. Tell them to be creative! – if they do not have a bear, they can draw one on paper, or download and print out our bear in provided instructions download.
Before you go on your "hunt", sit with your children and listen to 'We're Going on a Bear Hunt' by Michael Rosen and Helen Oxenbury.
Then it's time to make your "Bear Hunt" Binoculars!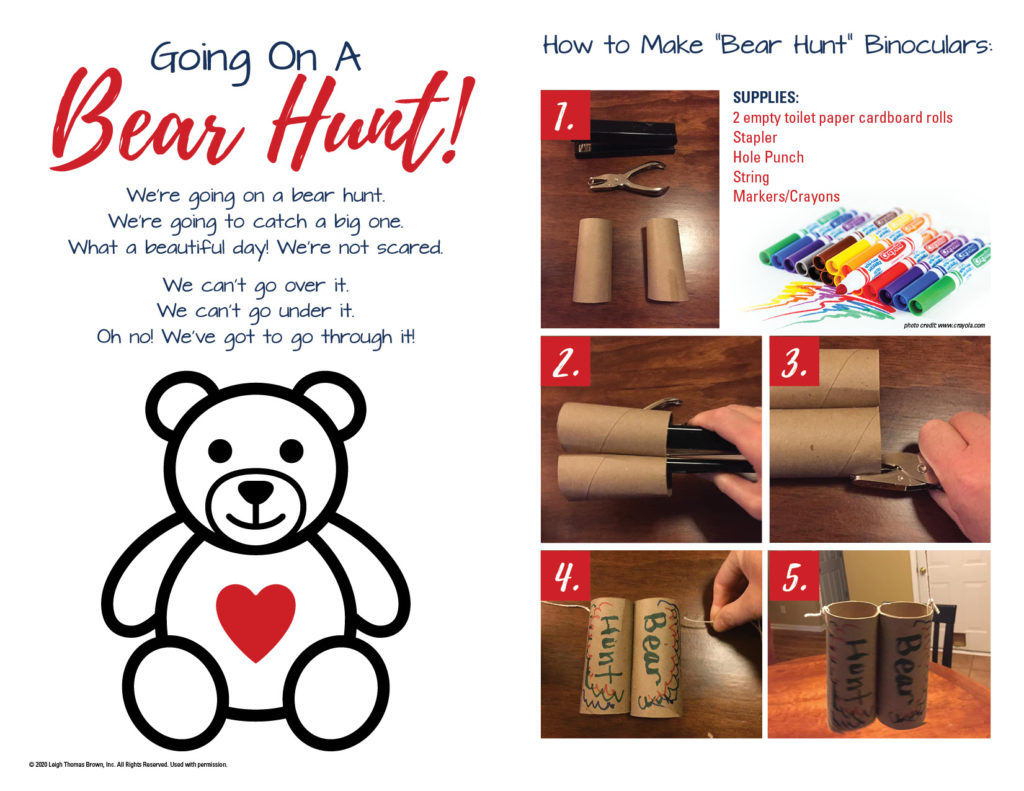 Families will walk around the neighborhood and discover all the bears. Please make sure to stay on the sidewalks, not go in yards, or remove the bears. Practice your "social distancing" as you are walking amongst your neighbors and friends. You can bring paper with you to write down how many bears you find – or use our "Bear Counting" download. After your walk, you can come home and have your child/children draw the favorite bear they saw. Have them tell you:
Did you find a BIG bear?
Did you find a LITTLE bear?
Did you find BROWN bear?
Did you find a bear up HIGH?
Did you find a house with only ONE bear?
Did you find a house with LOTS of
Did you find any INSIDE bears?
How many bears did the house with the MOST bears have?
How many bears did the house with NO bears have? (trick question)
Make this a "homeschool" learning opportunity with this fun Counting Sheet: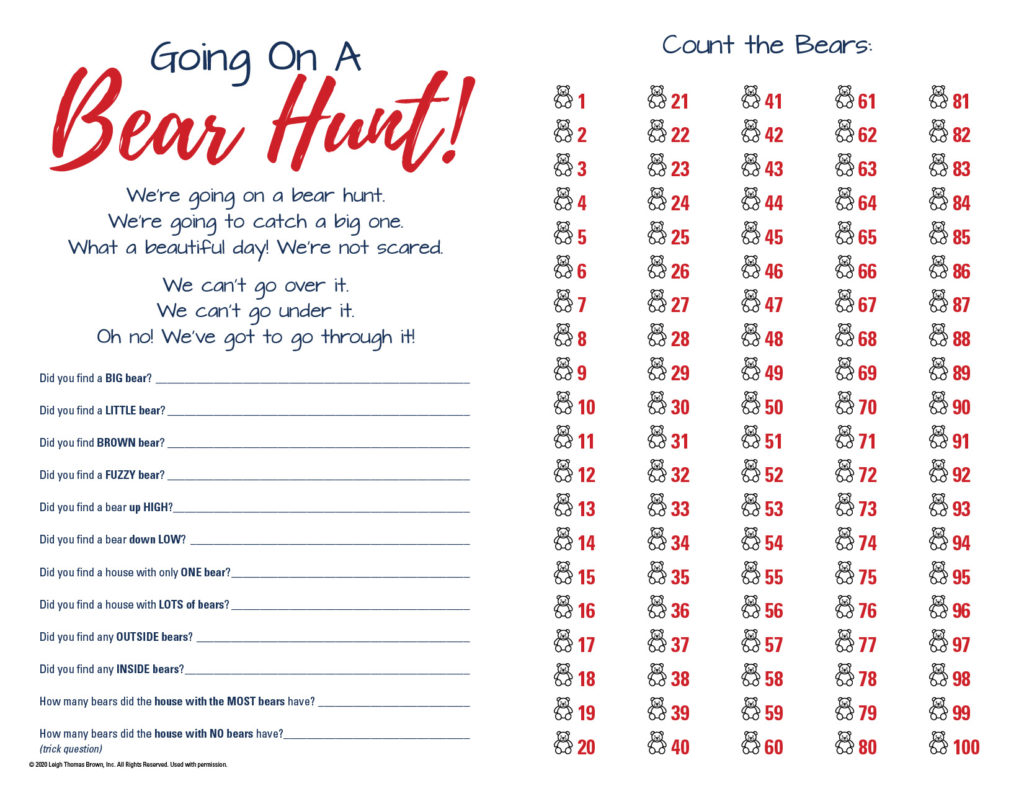 The book that inspired the hunt is fitting. "We're not scared," says the family as they head out. And when the family in the book faces an obstacle, they say something we can all keep in mind:
We can't go over it.
We can't go under it.Oh no!
We've got to go through it!
One Community Real Estate™ hopes this will help you create a fun community activity to share in your children's joy and making the most of this together time during the ever-changing times of our current crisis.
We would love to see your "Bear Hunt" posts!
Please tag us or share on our social.
Facebook: @WeLoveConcord | Instagram: @LeighsellsClt